Welcome to Elevation Restaurant at Cascade Culinary Institute! Offerings to the community vary by the academic term, as all meals are tied to classes.  We look forward to seeing you.
Note that March 17, 2023 was the final Bakery Kiosk morning for the 2022-23 COCC academic year. It will be back Fall 2023!
Spring 2023
Elevation Restaurant is serving five public meals each week during the spring term! Offerings include:
The Food Truck Operations course students are offering a take-out style, $10 patio lunch, Fridays, April 14–June 2, 2023, 11:30 a.m.–1:30 p.m. or until sold out. Reservations are not required for the Food Truck lunch.
Food Truck Lunch Menus:

April 14: Cuban Vaca Frita Arepas with Escabeche, Tropical Slaw & Avocado Crema and Horchata
April 21 (updated 4/19): Trinidadian Doubles with Chickpea & Potato Chana, Jerk Grilled Shrimp, Haitian Pikliz, Pigeon Peas & Rice and Hibiscus Lemon Agua Fresca
By the third week of service, students are "managing" the truck and the menus are all student-created/inspired:

April 28: Laotian Pork Laap Salad w/ Brown Rice, Cucumber, Cilantro & Pickled Vegetables, Fried Wonton Chips, Vietnamese Iced Coffee
May 5: Traditional Lamb Gyro on Fresh Pita w/ Greek Cucumber Salad House Made Sea Salt Kettle Chips, Lavender Lemon Tea
May 12: Marinated Steak Sandwich w/ Roasted Red Pepper Aioli & Chimichurri on a Ciabatta Roll with Parsley & Sea Salt Chips, Bread & Butter Pickles and Pomegranate Lime Spritzer
May 19: Tacos Al Pastor w/ Salsa Verde, Tortilla Chips, Escabeche and Cucumber & Lime Auga Fresca
The food truck will

not

be open to the public on

May 26

due to special student engagement activities with our foreign exchange partners. 
June 2 (final food truck lunch for spring): Buttermilk Fried Chicken Sandwich on Brioche Bun w/ Cider Vinegar Coleslaw, Half Sour Pickles, Banana Pudding & Sweet Tea Lemonade

Update for June 9

: Class field trip; public lunch will not be available.
The Food Truck Operations class and associated public lunches will be back next spring! Thank you for your support.
Spring 2023 public fine-dining meals:

Lunches: Thursdays and Fridays, April 13–June 9, 2023.
Dinners: Thursdays and Fridays, April 13–June 2, 2023.
Reservations for lunches and dinners became available midday on April 5 and are already full.
As reservations to the community are of a limited quantity, CCI asks guests to only book 1 or 2 reservations per term.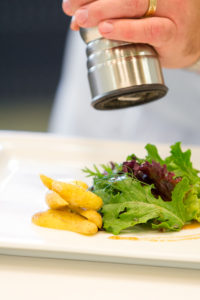 Cascade Culinary Institute students and faculty/staff look forward to seeing you soon!
Location and Payment:
All offerings, including the Elevation Shirley Ray Food Truck, are located at Cascade Culinary Institute, 2555 NW Campus Village Way in Bend.  Map and Driving Directions.
Please pay in-person. Payment options are cash, Visa, MasterCard and Discover.
All tips go to the Cascade Culinary Institute student scholarship fund!