Welcome to Elevation Restaurant at Cascade Culinary Institute! Offerings to the community vary by the academic term, as all meals are tied to classes.  We look forward to seeing you.
Fall 2023
Elevation Restaurant lunch reservations will open Wednesday, October 4, at noon and are expected to fill quickly.
As reservations to the community are of a limited quantity, CCI asks guests to only book one or two reservations per term. Thank you for your support!
Lunch price is now $15 per person, not including beverages.
Lunch reservations are expanding, this fall, to four days in the week. Lunch service will occur on Mondays, Tuesdays, Thursdays, and Fridays, between the dates of October 9 through December 8, 2023. Reservation times are every 15 minutes, between 11 am and noon.
Reservations for 2,3, or 4 are through Open Table.
Large party/banquet requests are not available. Elevation Restaurant has already established large lunch events on certain lunch days, associated with COCC campus needs.
If you have questions, please reach out to Cascade Culinary Institute faculty member Darrell Henrichs at dhenrichs@cocc.edu.
COCC Community Education offers many short-term culinary classes. Check out the many fall class options as well as the Fermentation Series Workshop.
Upcoming Offerings, Academic Year 2023-24
The CCI food truck patio lunch, as well as Elevation fine-dining dinners, are currently April–early June offerings only.
Additionally, check out the Nancy R. Chandler Lecture Series at COCC which offers regular campus lectures to the public.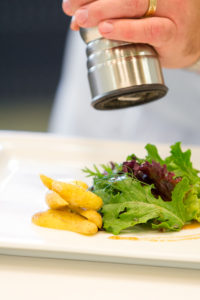 Cascade Culinary Institute students and faculty/staff look forward to seeing you soon!
Location and Payment:
All offerings, including the Elevation Shirley Ray Food Truck (spring), are located at Cascade Culinary Institute, 2555 NW Campus Village Way in Bend.  Map and Driving Directions.
Please pay in-person. Payment options are cash, Visa, MasterCard and Discover.
All tips go to the Cascade Culinary Institute student scholarship fund!